Hard to belive, but if you are a ISV or microISV, Microsoft is offering in BizSpark (a program launched towards ISV and microISV at European Software Conference 2008). If you are a small company Microsoft will offer you the tools, database and even hosting for developing your applications for FREE. Is such an offer possible?
The conditions are simple:
Actively engaged in development of a software-based product or service that will form a core piece of its current or intended business1
Privately held
In business for less than 3 years, and
Less than US $1 million in annual revenue.
To be eligible to use the software for production and deployment of hosted solutions, startups must also be developing a new software as a service solution (on any platform) to be delivered over the Internet
What is Microsoft going to offer you:
Design, development, testing and demonstrations rights with regard to:
All the software included in the Visual Studio Team System Team Suite (VSTS) with MSDN Premium subscription
Expression Studio (Version 2)
VSTS Team Foundation Server (Standard Edition)
Production Use rights to host a "software as a service" solution (developed by the startup during their participation, on any platform) over the Internet, with regard to products including: Windows Server (all versions up to and including Enterprise); SQL Server (all versions); Office SharePoint Server; Systems Center, and BizTalk Server and all these for your whole development team
Above all these, the support will be free. Hard to believe such an program exists. There is catch you will ask? A 100$ program offering fee is due when the Startup exits the Program. As part of Microsoft's commitment to Startup success, there are no initial costs for Startups to join BizSpark.
More information can be found in this pdf.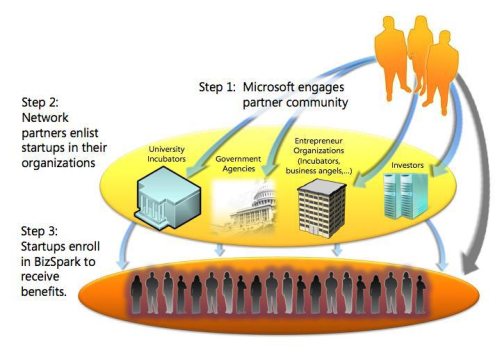 Post a comment